Clinically reviewed by Sarah Fletcher, LPC, LAC
Table of Contents
What Does IOP Stand For?
IOP stands for "intensive outpatient program." IOP programs treat substance use disorders and co-occurring mental health disorders. IOP offers group therapy and life skills classes for those with substance abuse issues.
IOP is intensive due to the schedule of treatment. You will meet with clinicians and support groups for at least 10 hours per week.
"Outpatient" means that at IOP, clients go home each night. This is unlike inpatient treatment, where you would live in the treatment center.
IOPs are structured programs that follow a schedule and routine. The program helps you build skills. IOP is like after-school for mental health and substance abuse disorder.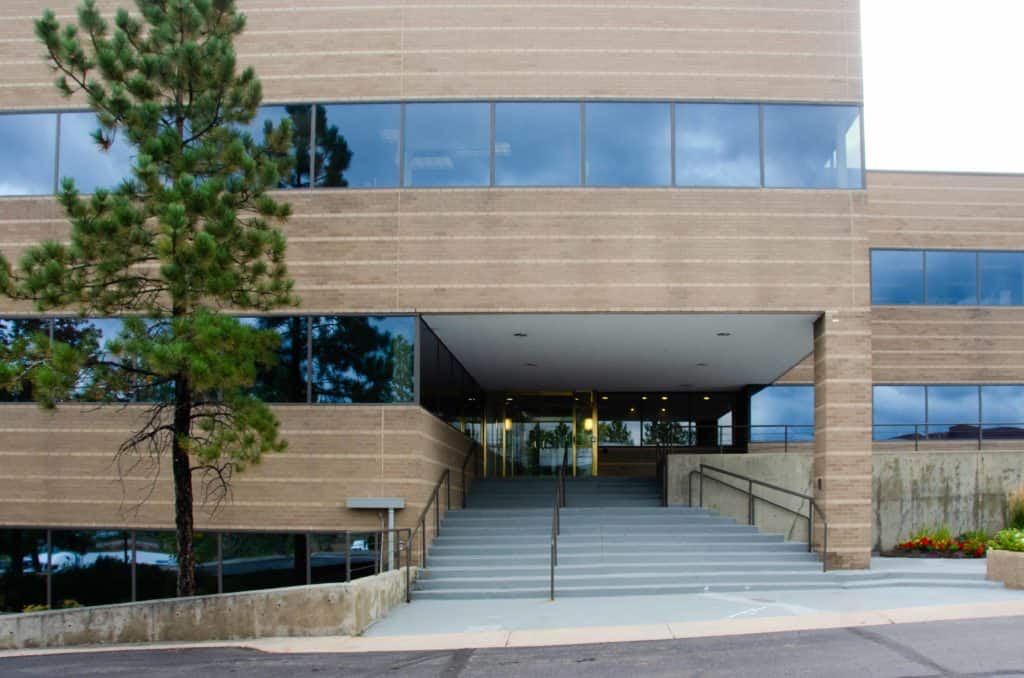 What Is An IOP Program?
An IOP program treats mental health, addiction, and other issues. You can attend an IOP while working and going to school.
During an IOP, clients will do the following:
Group therapy sessions
Individual counseling
Life skills classes
Support groups
IOP programs also offer courses to address the issues that cause addiction. These courses might include topics like:
Trauma education
Vocational skills
Emotional regulation
Relapse prevention
Family and community
Self-discovery
Knowing what type of treatment will work best for each person depends on their needs. An IOP might be best for those needing a step-down from inpatient care. They can resume their daily life after inpatient treatment and still get a high level of care.
IOP might be best for those needing lots of help without the restrictions of an inpatient program.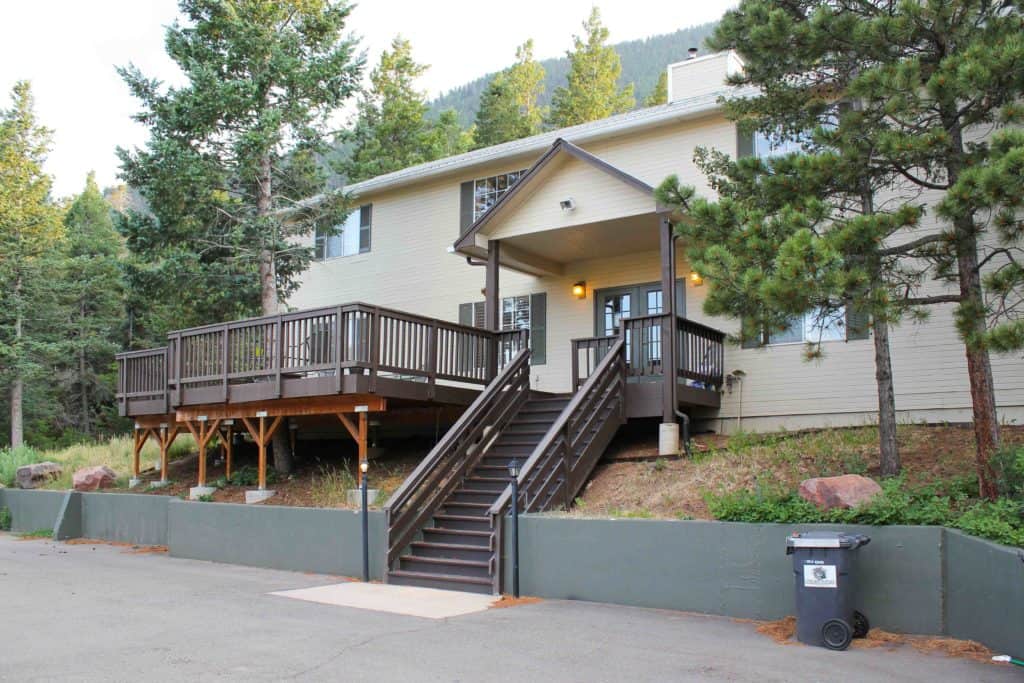 What Is The Difference Between An Inpatient And Outpatient Facility?
The difference between an inpatient and outpatient facility is that you stay overnight at inpatient facilities. 
An outpatient program allows for more freedom. Inpatient stays are typically short, usually less than one week. Inpatient programs keep you safe in the short term to stabilize clients for future therapy solutions.
Inpatient and outpatient facilities also differ by the types of treatments and the level of support. Inpatient facilities can offer more hands-on support as you live at the treatment center for a brief time.
Inpatient care facilities are best if you need lots of support due to:
Detox and withdrawal
Severe mental health concerns, like suicidal behaviors and self-harm
Medical concerns
Lack of a supportive home environment
An inpatient treatment facility also offers:
Individual therapy
Group therapy
Clinicians on staff
Medication management
Detoxification services
Following an inpatient stay, outpatient services help you build a support system, and begin long-term recovery.
How Long Does An Intensive Outpatient Treatment Last?
Intensive outpatient treatment typically lasts 8 to 12 weeks.
IOP programs might run three to five days per week. You go to IOP programs for about two to five hours per day.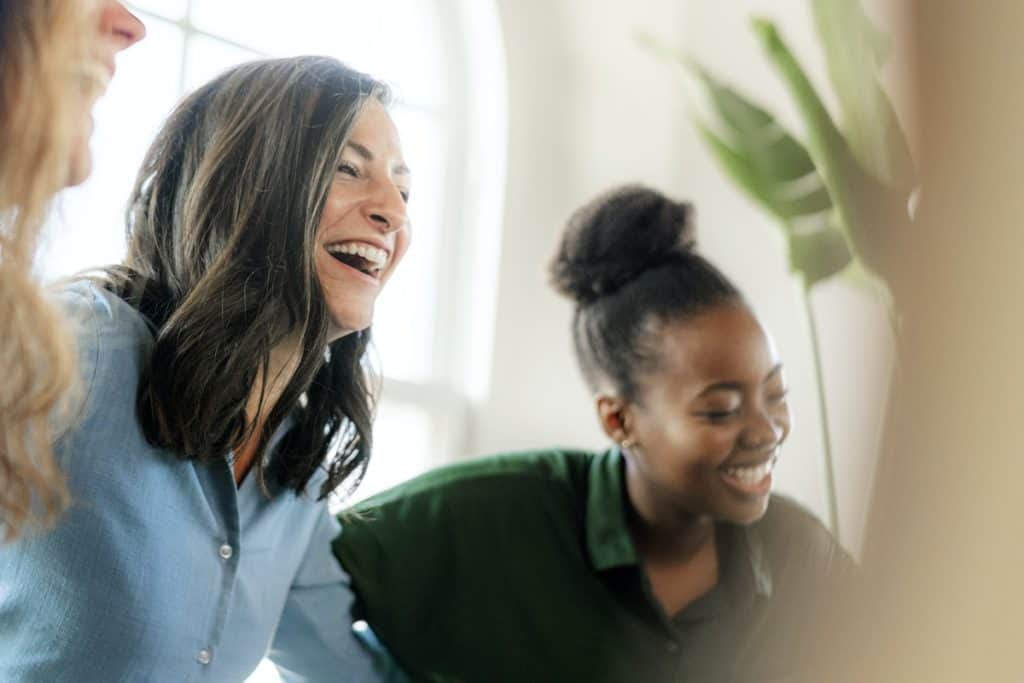 What Do You Do In IOP Level Of Care?
In IOP level of care, you go to therapy, learn to maintain sobriety, meet supportive peers, and develop good social and vocational skills.
Addiction and substance abuse can take away so much from you or a loved one. You might struggle to find and maintain a job, build healthy relationships, create a healthy family life, or find value in your life.
Issues related to addiction and substance abuse do not only include dependency or other physical symptoms.
Addiction can have an impact on many areas of your health and well-being, such as:
Social wellness
Job or career fulfillment
Family health
Mental health
IOP programs help you go from active addiction to building a fulfilling life during your long-term recovery.
During an IOP level of care, you will attend therapy, groups, and other courses. A typical day in an IOP is a mix of therapy, learning good social skills, help to find a job, and support groups.
IOP can also be flexible if you cannot attend in-person sessions with virtual IOP.
When the COVID-19 forced facilities to "go remote," many treatment centers continued offering virtual programming.
The schedule and time commitment for in-person and virtual IOP are similar. Virtual IOP services are great if you cannot go to IOP in person due to disability, location, or other issues.
Virtual IOP is nearly the same as in-person IOP programs. 
You meet with therapists, support staff, and peers on your phone, computer, or tablet. Much like in-person IOP, virtual IOP allows you to have treatment while still going to school and work.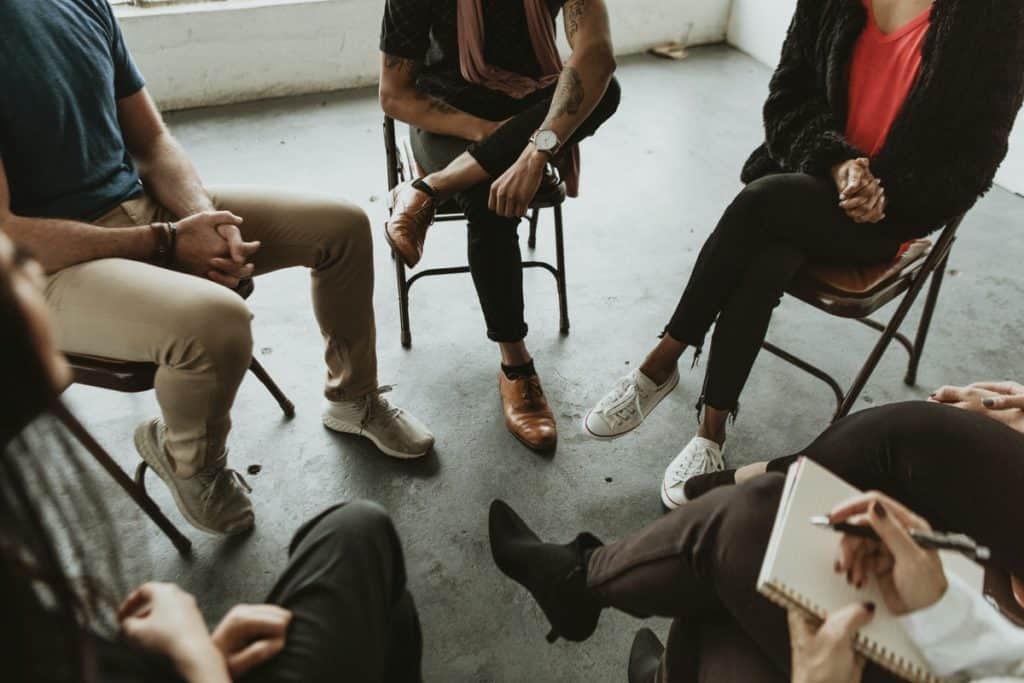 Is Group Therapy A Part Of IOP?
Group therapy is a big part of most IOP programs.
Peer support can help you find others with the same issues. You can meet peers and find support during group therapy sessions.
The benefits of group therapy are:
Relating to others
Building a support system
Sharing tips and coping skills
Sense of belonging
Feel less alone in recovery
Share without fear of judgment
Build social skills
Some groups also include multi-family therapy. During multi-family therapy, family members can share their challenges and experiences of having a loved one in recovery. You and your family members meet other families. You can share tips and stories.
What Is IOP For Addiction Treatment Or Substance Abuse?
IOP programs help you or a loved one with addiction or substance use disorder (SUD) stay sober.
IOP for addiction treatment and substance abuse are best if you have gone through detoxification or "detox." An IOP does not offer the level of care needed to safely detox from substances.
IOP for addiction and substance abuse helps you build the life you want as you:
Learn the skills to maintain a job
Find meaning in life through self-discovery
Connect to peers in recovery
Address the causes of addiction and SUD
Learn skills to find and maintain healthy relationships
Recovery at an IOP deals with the issues that cause substance abuse and addiction. Learning to address these causes of addiction can help you learn relapse prevention to stay sober.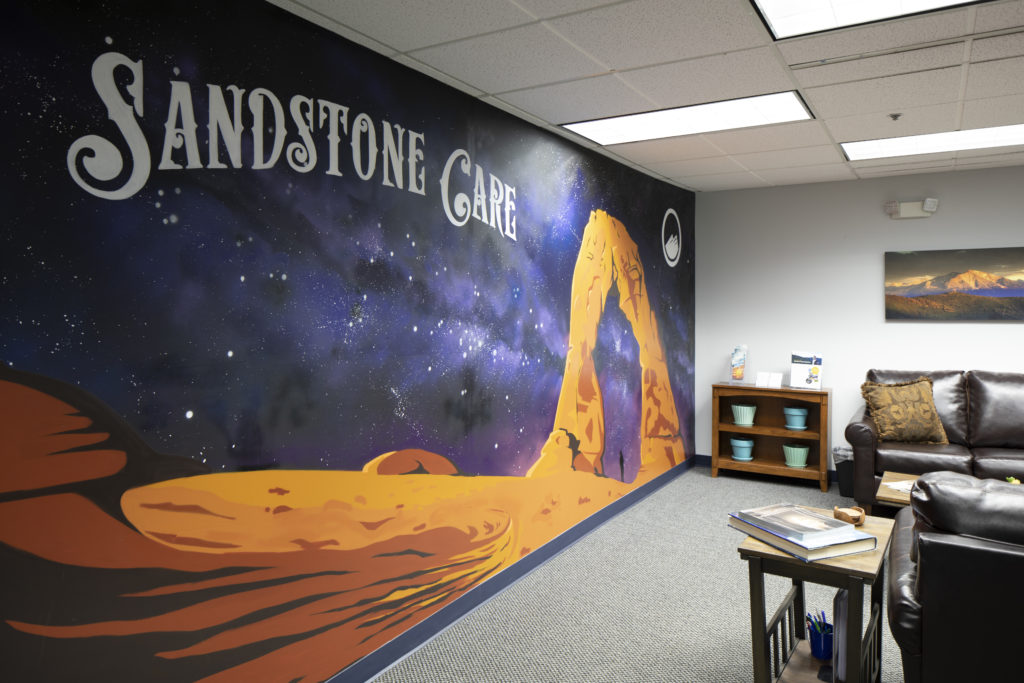 What Is IOP Mental Health?
IOP for mental health can help you deal with a mental health issue. 
Following an inpatient mental health stay, you might need a step-down level of care.
Inpatient stays at hospitals for mental health are for danger or harm to yourself or others. Inpatient services help you get stable after suicide attempts, self-harm, or other medical issues related to mental health symptoms.
IOP for mental health helps you go from an inpatient stay back to your daily life. 
When dealing with mental health issues, you might struggle with life skills, like having a job and a healthy relationship.
You also get peer support, learn coping strategies, attend group therapy sessions, and get individual counseling.
Many IOP programs for addiction and substance abuse help you deal with mental health issues for your recovery. IOP programs can help you or a loved one with a dual diagnosis of mental health and addiction.
Dual diagnosis treatment helps with co-occurring mental health concerns causing your addiction.
You or a loved one might use substances to deal with mental health issues like:
Depression
Anxiety
Post-Traumatic Stress Disorder (PTSD)
Bipolar Disorder
Borderline Personality Disorder (BPD)
IOP programs can help address these issues with therapy solutions like cognitive or dialectical behavioral therapy, group therapy, social skills, and vocational support.
Are IOP And PHP The Same?
IOP and PHP are similar but not exactly the same.
PHP stands for "Partial Hospitalization Program." Both PHP and IOP offer support without overnight stays. PHP is a step-down from inpatient stays at a mental health unit at a hospital or crisis center.
PHP offers similar treatment to an IOP to address mental and behavioral health needs. You can expect life skills courses, along with group and individual therapy.
PHP can also be for substance abuse and addiction.
PHP is a higher level of care than an IOP. PHP is helpful after you leave an inpatient stay to go back to your normal life.
After participating in a PHP, you might consider continuing care with an IOP or other outpatient services. Your treatment team or doctor can help you find outpatient services after PHP.
How Long Is PHP Treatment?
PHP treatment usually lasts anywhere from two to four weeks. PHP usually operates during daytime hours, three to five days a week for six to eight hours.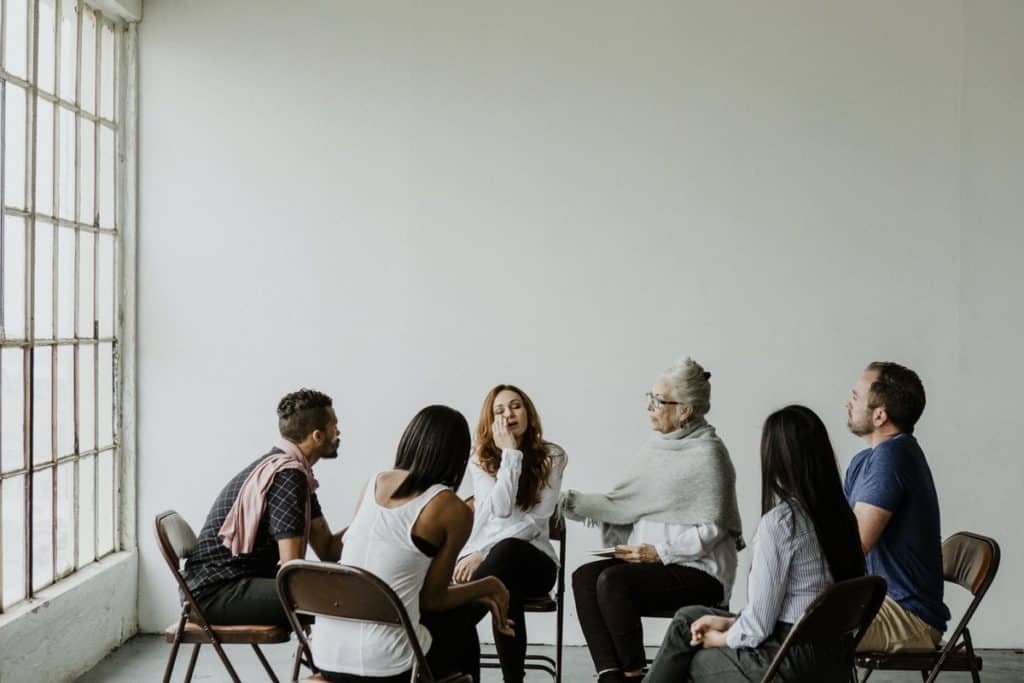 What Is The Difference Between Inpatient Treatment And Residential Treatment Programs?
There are a few main differences between inpatient and residential treatment programs. Inpatient treatment is at a hospital or medical setting. Residential treatment is in a home-like setting. Residential treatment programs take longer than inpatient programs.
Inpatient treatment is a short-term stay, usually seven to ten days.
The goal of inpatient treatment is to get you better after a crisis, like an overdose, suicide attempt, self-harm, or problems from mental and behavioral health issues, like an addiction.
Residential treatment programs can last a month or longer. 
Residential treatment programs focus on long-term recovery after inpatient treatment and detox.
Is Detox Considered A Residential Treatment Plan?
Detox can be part of a residential treatment plan if you or a loved one need it.
Detox is a short-term service that is more of a medical concern. Often, you might go through detox before residential treatment. If you need detoxification from substances or alcohol, you might need help from medical staff.
Residential treatment programs might have detox services, but treatment plans begin when you are stable. The real work of recovery begins when you are finished dealing with withdrawal.
Withdrawal can include the following symptoms:
Difficulty sleeping
Loss of appetite
Fatigue
Digestion problems, like nausea or diarrhea
Headaches
Chills or sweating
Rapid heart palpitations
Withdrawal symptoms can be mild to severe.
How bad your withdrawal feels depends upon the substance used, how often it was used, and for how long.
Cravings and urges for substances or alcohol can be intense during detox. 
Medication-assisted treatment (MAT) at a treatment center can help you remain sober and substance-free when starting treatment and as you continue to get better.
MAT allows you to start rehab without the painful symptoms of withdrawal.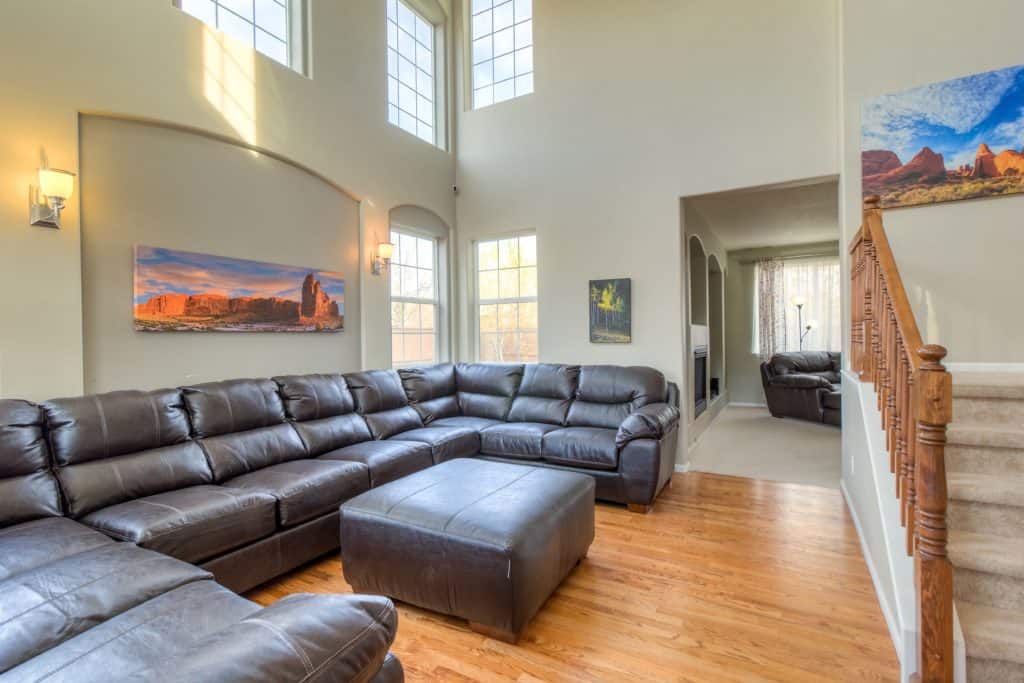 Is Residential Treatment The Same As Rehab?
Residential treatment is just one option for drug and alcohol rehabilitation (rehab).
Rehab can be a catch-all term for different types of treatment services for substance abuse, addiction, and dependency. Rehab helps with the causes of drug addiction or substance abuse.
Rehab can also include other treatment services for treating substance abuse and co-occurring disorders.
Rehab can include the following:
Residential treatment programs
IOP
Partial Hospitalization
Outpatient services
Sober living homes
12-step support groups, like alcoholics anonymous (AA) or narcotics anonymous (NA)
Depending on your needs in addiction recovery, stepping down from a higher level of care to lower ones might be part of your rehab. You might also attend support groups while during your treatment.
What Is The Difference Between A Group Home And A Residential Treatment Center?
The main difference between group homes and residential treatment centers is that group homes are for people with complex lifelong health needs, needing 24/7 care. Residential treatment centers are for people with treatable conditions.
Group homes are often for people who struggle to care for themselves without a lot of help. People with intellectual disabilities, severe and persistent mental illness (SPMI), or other medical issues might live in a group home.
Both group homes and residential treatment centers are home-like with lots of supervision and support. 
During a stay at a residential treatment center, you help to support your peers to maintain a healthy and comfortable place. You might share chores and other responsibilities with other people and staff in the center.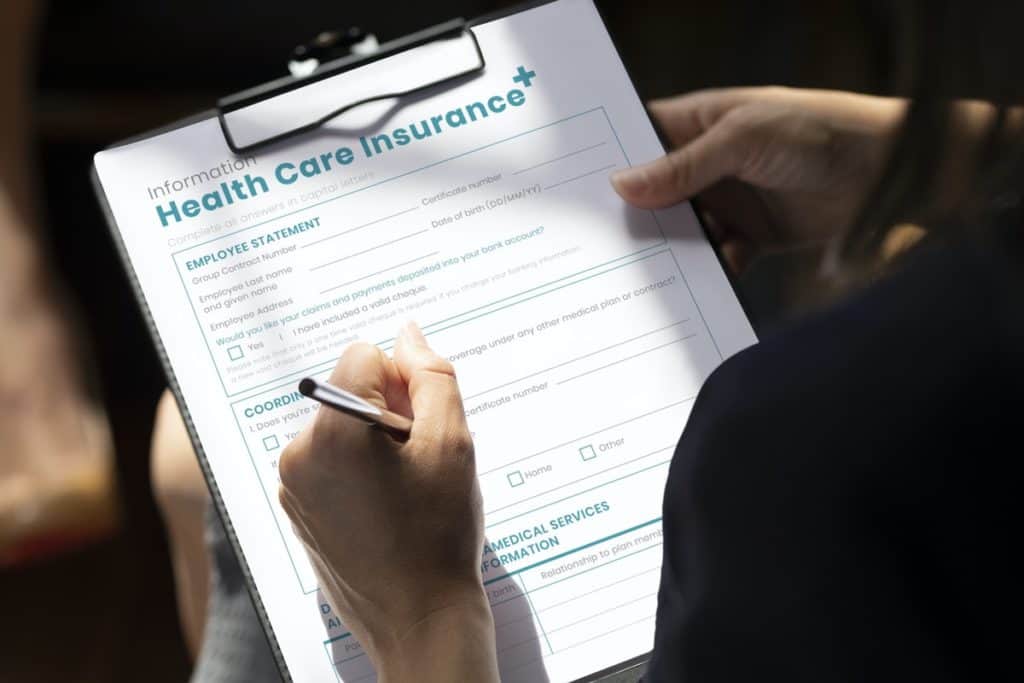 Is IOP Covered By Insurance?
IOP is usually covered by most insurance carriers when IOP is referred by a doctor or psychiatrist following inpatient care at a hospital. 
Depending on your insurance and health care plan, the length of your program might vary. Before entering an IOP program, ask the program what insurance carriers they accept. Program staff can help you verify coverage and tell you more about their costs.
Can I Do Rehab At Home?
Rehab at home is not your best treatment option for addiction recovery. 
You might need a high level of care and support if you have been using substances or alcohol for a long time. You might need to detox before getting long-term help in recovery.
Detox at home can be dangerous. 
If you are addicted to strong, illicit drugs or use them often, you might be at risk of physical harm due to withdrawal symptoms.
You might have a hard time managing addiction and getting clean at home.
At your home, you might have triggers nearby that make it hard to quit drugs or alcohol. You might struggle to avoid your triggers at home. You might live with others, who currently use, or have family members who unintentionally enable your addiction.
Willpower alone is not enough!
Treatment centers with a program, supportive staff and peers, and therapists on hand are best.
Completing rehab at a treatment center reduces triggers as you start recovery. Treatment centers offer a safe, secure, and supportive environment for early addiction recovery.
Many 12-step programs and support groups use the mantra "one day at a time." Getting into a treatment center is the best way to start at day one.
Starting rehab at a treatment center, you can build healthy habits, step down in levels of care, and get back to your life with strong coping strategies for addiction.
Is a 12 step program better than inpatient therapy?
12-step programs do not have professional support like inpatient therapy does.
However, 12-step programs can help you in recovery as part of your treatment plan. These groups are not enough alone for long-term success.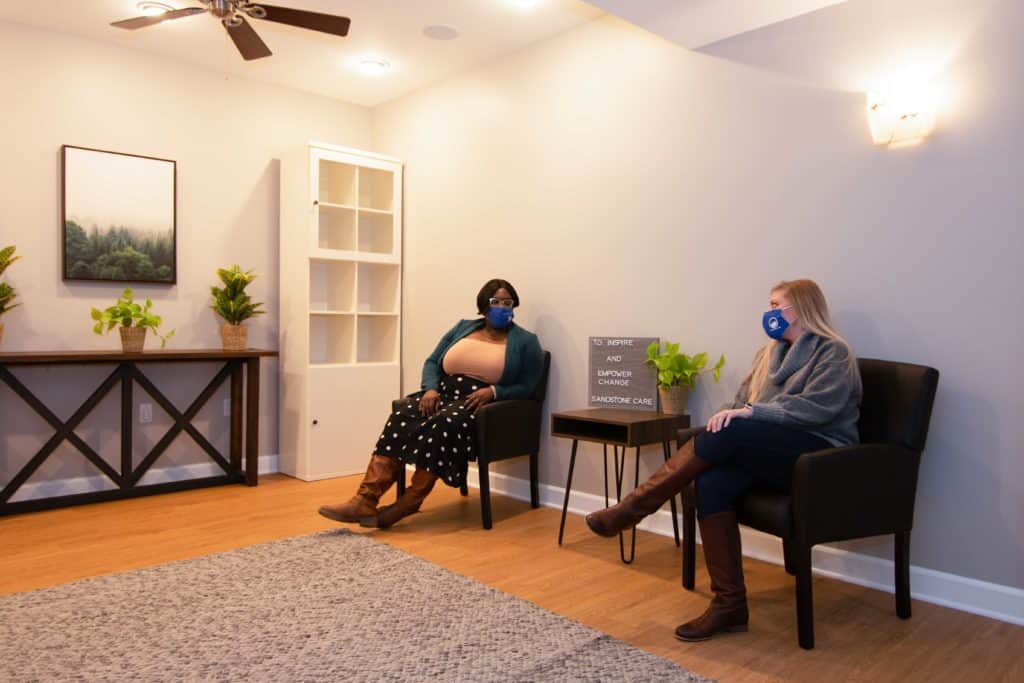 Inpatient therapy helps the complex issues related to substance abuse and dependency that a 12-step program cannot. 
Withdrawal symptoms during detox can be difficult to manage without inpatient treatment.
When you struggle with an addiction, you might need medical support and supervision with trained clinicians during early recovery. 12-step programs are run by peers in recovery, who cannot provide the professional level of care you might need.
Support groups and 12-step programs are just one part of a treatment plan for addiction recovery.
Your treatment plan can include some of the following:
Intensive outpatient treatment program (IOP)
Behavioral therapy
Group therapy
Individual counseling
Medication management
Mindfulness practices
You need to be met "where you are" in your recovery. You or a loved one might need more support than others. By understanding all the options, you can make the best decision for your recovery. Intensive outpatient programs (IOP) can help you if you need a step down from inpatient care, partial hospitalizations, residential treatment, or another higher level of care. You might begin recovery at an IOP program, depending on the severity of your addiction and the quality of your natural support system. Sandstone Care is here to help you or a loved one decide what level of care is right for your addiction recovery. Let's take the next steps together! Call us today at (855) 958-5511.