Drug addiction and abuse are all too common in the DC, Maryland, Virginia area – but there are ways to 
take action
and prevent overdoses.
In a time of crisis where medical attention is needed, there is no time to lose. If anyone is around to help the situation, it is important that the injured person be their sole concern in that moment. After all, "good Samaritans" (a person who helps another with no promise of reward) are most often just normal citizens passing by, not experienced or part of the medical field. There are many variables and things that can go wrong in a critical situation, and unfortunately those liabilities are sometimes enough to discourage bystanders from stepping in to help. However, states have put laws in place that remove the liability and help prevent drug overdose. 
What are Good Samaritan Laws?
Good Samaritan Laws were created to prevent drug overdose and protect potential rescuers in a crisis. Variations of these laws exist throughout the United States, both Federally mandated and by state choice, but all 50 states have at least one Good Samaritan Law. Good Samaritan Laws were initially written to protect doctors and nurses from liability when caring for someone outside their usual clinical setting, but many apply to regular citizens as well during a medical crisis.  
Bystanders are not the only people protected by Good Samaritan Laws – some also apply to off-duty medical staff as well as the person needing medical attention. In addition to protecting a bystander or victim in the case that they call for medical help, some Good Samaritan Laws also encourage bystanders to take action if they have the opportunity. For example, during an opioid overdose, administering a drug like Naloxone (which rapidly reverses an opioid overdose) can save the victim's life before medical assistance arrives. Actions like this, taken in "good faith" for the health and safety of the injured person or group of people, are covered under most Good Samaritan Laws in the US. 
Drug Overdose Prevention
The decision to call for medical help during a drug overdose is crucial, especially with the number of overdose-related deaths in America totaling over 72,000 in 2019. After learning about the Good Samaritan Law in their state, 88% of opiate users in the state of Washington indicated that they would be more likely to call 911 during future overdoses.  While these laws apply in each of the United States in some capacity, many people are unaware they exist. State health departments and the CDC work to spread awareness using programs like Virginia's RAPID REVIVE! Training and the flyer below, posted by the Maryland Department of Health.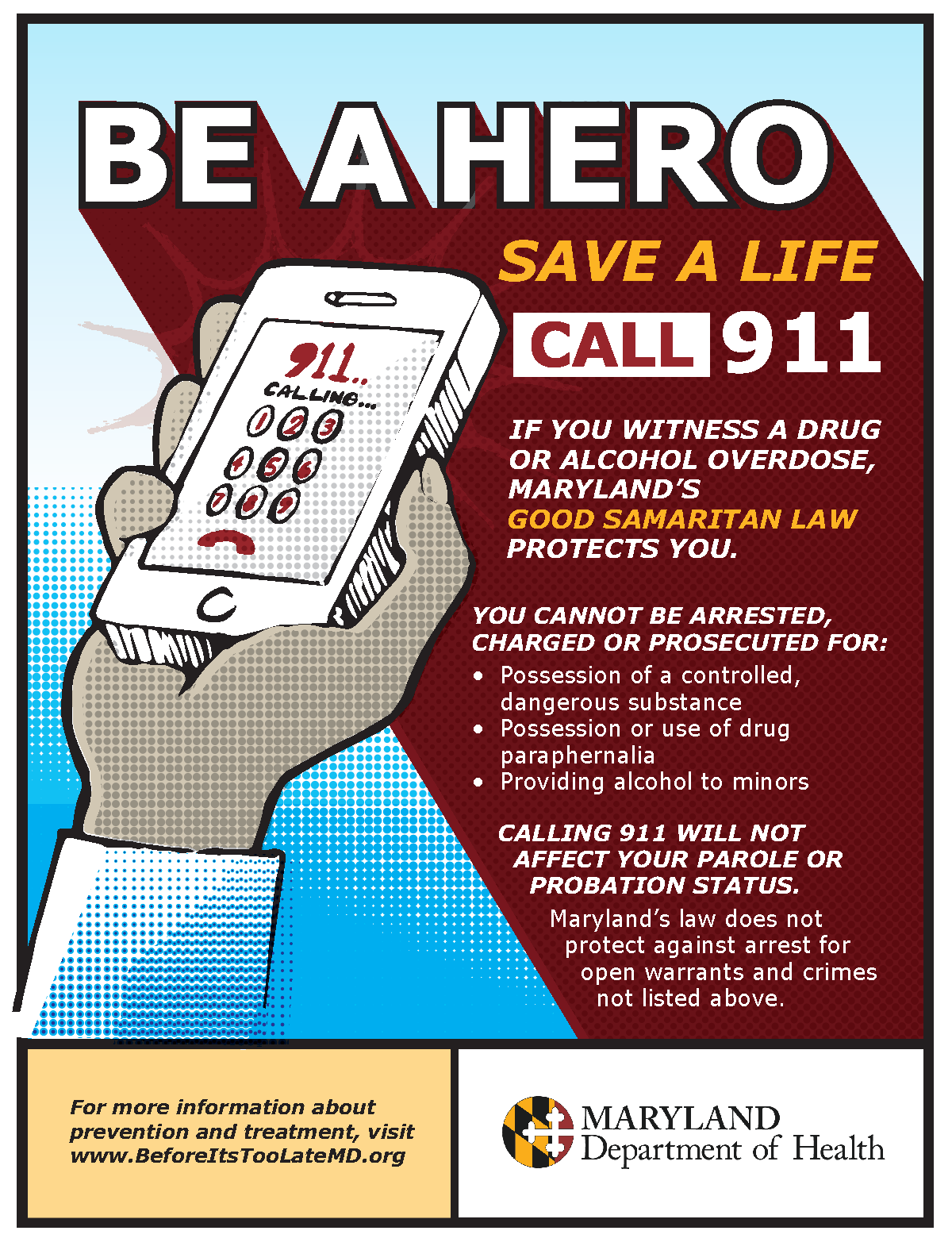 Which Good Samaritan Laws apply in the DMV area? 
In the DC, Maryland, Virginia (DMV) area, there are specific Good Samaritan Laws to protect those who help someone during a drug overdose or an injury that occurred while under the influence of drugs. These laws aim to take away barriers to calling 911 and allowing an injured person to get the help they need and ultimately prevent drug overdose. Whereas a person under the influence or currently using drugs would naturally worry about calling for medical assistance when needed, Good Samaritan Laws protect those that help from being criminalized in that situation. 
Click the links below for specific information about:  
Good Samaritan Laws in Washington DC 
Good Samaritan Laws in Maryland 
Good Samaritan Laws in Virginia  
Opioid Addiction and Treatment Options in the DMV Area 
Teen and Young Adult Opioid Abuse 
Treatment Programs Available at Sandstone Care 
Sandstone Care offers a full continuum of care with locations in Colorado, Virginia, and Maryland. If you or someone you know is struggling with substance abuse and mental health and would benefit from our state-of-the-art treatment services, Sandstone Care can help. Please do not hesitate to reach out to our admissions team 7 days a week at (888) 850-1890. 
Did You Know? 
Sandstone Care offers online marijuana addiction treatment. Our Virtual IOP program offers the same programming we offer in person, all online – ideal for those who live too far to drive in, have transportation issues, or health concerns that make in-person treatment challenging. Click here to learn more.